[Notice] ATU Taekwondo Education in Pakistan in October
페이지 정보
Writer:

ATU

&nbsp&nbsp

Comment:

0&nbsp&nbsp

Hit:

362

Date

: 2023-10-17
본문
Dear ATU Colleagues,
We are pleased to announce that the Asian Taekwondo Union will be organizing the educational events in Islamabad, Pakistan, from October 27th to 31st, 2023. These events are aimed at enriching our Taekwondo community and fostering excellence in our sport.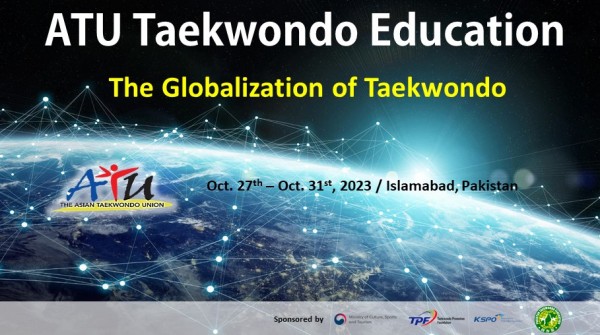 ATU Taekwondo Education - Kyorugi and Poomsae Separately
- Open to: ATU Coaches, Managers and Athletes
- Date: October 27th - 31st, 2023 (5 days)
- Location: Rodham Hall, Pakistan Sport Board Islamabad
- Schedule:
* Morning Session:
Kyorugi for Coaches and Managers
Poomsae for Athletes
* Afternoon Session:
Poomsae for Coaches and Managers
Kyorugi for Athletes
- Participation Fee: Free of charge
※ It is allowed that the athletes participate in both Kyorugi and Poomsae sessions.
※ Poomsae Education will be organized with the support of the Ministry of Culture, Sports and Tourism, Taekwondo Promotion Foundation, Korea Sports Promotion Foundation.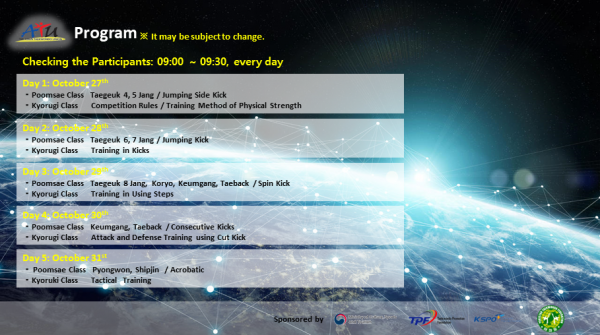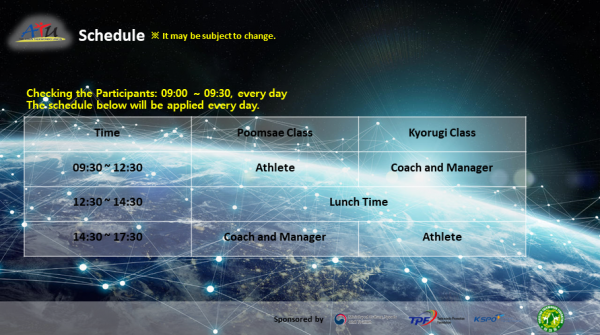 We are proud to have professional instructors leading these educational programs, and further details about the instructors will be communicated to you soon.
Accommodation Reservation:
For accommodation reservations, please refer to the attached accommodation guide and complete the form provided. Send the completed form to Pakistan Taekwondo Federation (PTF) at ptf_wasim@yahoo.com or contact them at +92-321-5200884. PTF is generously offering accommodations free of charge, including full board, for all international teams participating in these events.
Appliciation Forms:
The application forms for registration will be sent out in the coming days.
This educational event presents a valuable opportunity for our Taekwondo community to enhance skills, knowledge, and collaboration. We encourage your active participation and engagement.
Should you have any inquiries or require further information, please do not hesitate to contact us at admin@wtasia.org.
We are looking forward to your enthusiastic participation in the ATU Taekwondo Education.
Best regards,
ATU Secretariat